CUPE NL to launch 'You've got to be kidding me!' province-wide ad campaign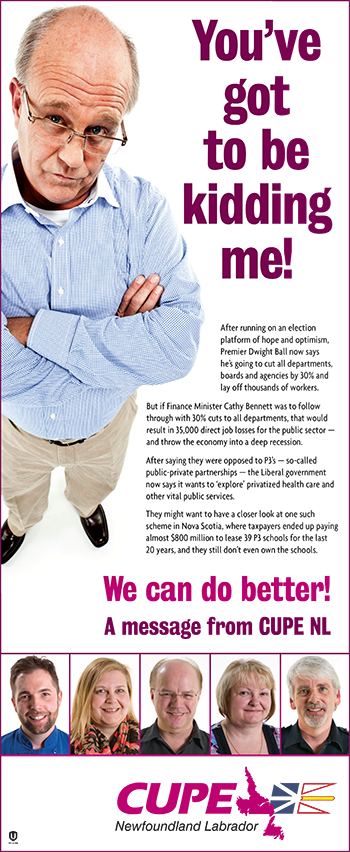 ST. JOHN'S – CUPE Newfoundland and Labrador is launching a province-wide ad campaign designed to educate members of the public about potentially devastating cuts to public services and jobs.
CUPE NL President Wayne Lucas says, "After running on an election platform of hope and optimism, Premier Dwight Ball now says he's going to cut all departments, boards and agencies by 30% and lay off thousands of workers."
"If Finance Minister Cathy Bennett was to follow through with cuts of that magnitude, it would result in 35,000 direct job losses for the public sector and somewhere between 10,000 and 15,000 indirect job losses in the private sector, throwing the economy into a deep recession," says Lucas.
"On top of that," says Lucas, "after saying they were opposed to P3s – so-called public-private-partnerships – during the election campaign, the Liberal government now says it wants to 'explore' privatized health care and other vital public services."
Says Lucas, "Like most people in the province, our reaction to all of this flip-flopping is … you've got to be kidding me!"
The campaign commences Monday, April 4 and features CUPE members in TV, radio, newspaper and online ads. The TV spots and print ads can be viewed at: www.nl.cupe.ca.