National Nursing Week 2016: CUPE nurses keep our public health care system strong
National Nursing Week – May 9 to May 13 – is our chance to recognize nurses for keeping the pulse of Canada's health care system strong.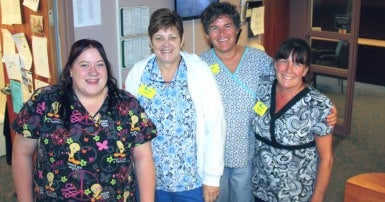 Mark Hancock, national president of CUPE, and Charles Fleury, national secretary treasurer, thanked CUPE nurses and health care workers for their dedication and hard work on the frontlines, ensuring quality care all Canadians depend on.
"We congratulate CUPE members and staff who have worked diligently to advance nursing issues such as full scope of practice, advanced training, improved staffing levels, protection against violence in the workplace, quality patient care, pay equity and adequate health care funding," said Hancock and Fleury in a letter sent to all CUPE locals.
"Particularly in CUPE's Year of Health and Safety, we want to acknowledge the health and safety risks faced daily by nurses in the workplace. Understaffing in our facilities creates many health and safety risks such as stress and injuries from workload and increased risk of violence".
CUPE proudly represents tens of thousands of registered practical nurses (RPNs) and licensed practical nurses (LPNs), as well as several hundred registered nurses (RNs).
All across the country, CUPE nurses are also fighting against privatization and austerity, and for quality public services in our communities. CUPE nurses continue to be on the frontlines, fighting for quality public health care and working hard to advance health care workers' issues.