National President brings a message of support and solidarity to CUPE 4948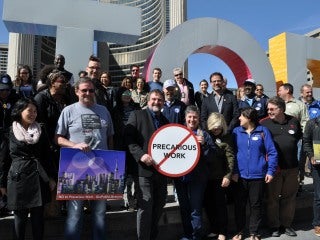 CUPE Local 4948, currently in bargaining with the Toronto Public Library Board. Brother Mark joined library workers, along with CUPE 4948 President Maureen O'Reilly, in front of the famous 'Toronto" sign located in front of Toronto City Hall.
With a workforce where more than half the workers are precariously employed, and three quarters are women, CUPE 4948 is bargaining to secure more stability and predictability for members who play a vital role in making the Toronto Public Library arguably the best public library system in North America.